Quality Policy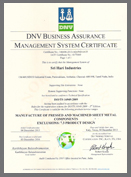 We, at "Sri Hari Industries" are committed to manufacture and supply of Pressed and Machined Components and its Assemblies to meet Customer's Satisfaction in terms of Quality Requirements and On-Time Delivery. This is being achieved through continual improvement in all Organizational Processes. This Policy is being reviewed periodically and revised when required.
Sri Hari Industries has successfully implemented A visionary SME program conducted jointly by CII & JICA (Japan International Cooperation Agency).
Sri Hari Industries is committed to QUALITY, ON-TIME DELIVERY and COST-EFFECTIVENESS to PROVIDE PRODUCTS AND SERVICES WHICH MEET OR EXCEED CUSTOMER NEEDS AND EXPECTATIONS :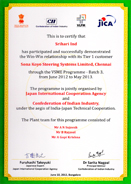 * Manufacture products which meet customer specifications.
* Strive to meet customer's target values.
* Monitor customer satisfaction.
DELIVER ON-TIME :
* Ship on the date required by the customer.
* Monitor on-time delivery performance.
TO MEET OUR COMMITMENT, WE :
* Emphasize appropriate training for all employees.
* Recognize each employee's responsibility for quality.
* Empower employees to question processes which appear to
produce discrepancies.
* Accept only conforming products and services from suppliers.
* Reduce waste and inefficiency wherever found.
* Develop and achieve Quality Improvement Goals.
* Review and renew this Quality Policy on a regular basis.